The Guardian Rupert Jones Saturday 2nd Feb 2008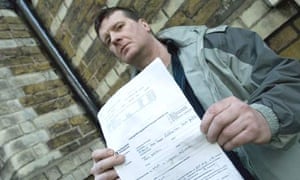 Paul Walton uncovered a catalogue of errors. Photographer: Christian Sinibaldi
Phantom loans, 'recreating' paperwork, bringing dozens of lost documents back to life … Rupert Jones talks to one customer who believes the system has failed him
Can you trust the records and paperwork that your bank keeps on you? You may be a little less happy to accept its version of events once you have read about Paul Walton, who was on the receiving end of what Royal Bank of Scotland admits was "a series of unfortunate errors".
His saga involves phantom loans, and lifts the lid on a little-known practice that allows banks to recreate documents they have lost.
Walton turned detective after being told by RBS that the amount he owed on his personal loan was much greater than he thought. He asked for a copy of his original loan agreement, but when he received it he knew at once that it wasn't the genuine article. He eventually found his original carbon copy, which confirmed his suspicions.
Surely one of Britain's biggest banks isn't forging documents? Of course not – but it is controversially "recreating" them.
During his investigations, the father-of-three managed to get hold of an internal RBS memo, which reveals that at some point last year the bank introduced procedures allowing staff to "recreate" loan agreements that it had mislaid. It did this because it was fed-up with the fact that some customers were getting their debts written off because staff could not find the paperwork. The memo boasts that RBS has brought dozens of lost documents back to life, and calls the practice "a classic example of thinking under pressure and adding real value to the bottom line".
Recreating documents is not against the law; banks are allowed to supply replacements if the original paperwork has gone missing, provided they are "correct in all particulars". But some might say that when bank staff are "under pressure," to quote from that memo, mistakes creep in. In Walton's case, it was a string of errors.
His MP, John Healey, the local government minister, said in a letter written to RBS last summer that he was "very concerned" about the bank's conduct, adding: "It may be the case that the bank's actions are not just unfair, but illegal." But the bank strongly refutes any suggestion of wrongdoing.
To fully understand what happened, we need to go back to April 1998, when Walton, 41, who lives in Rotherham, South Yorks, took out a £9,700 personal loan with RBS to consolidate an overdraft and an earlier loan. He soon found he could not afford the £212 monthly payments.
The case went to the county court later that year, and the bank obtained a judgment against Walton. He was ordered to pay £38 a month to settle the debt, and has dutifully paid that amount since then.
In 2006, he asked for details of how much was still outstanding, and says he was shocked when he was told the amount owed on the loan was around £20,000. He made an official request for all the paperwork relating to his loan account. The documentation he eventually received seemed to indicate that his personal loan and overdraft had been turned into "capital and interest variable rate loans" (whatever they are).
This seemingly happened in 1998 without Walton's consent. He knew at once that the credit agreement relating to these loans was not the original. "But how could I prove it? [At this point] I'm thinking the house is going to be repossessed."
He decided to search his loft, and there he found his own carbon copy. But it bore little resemblance to the document he was sent. The dates are different, as are the details of the payments and the interest rate, which is higher on the document he was sent.
The paperwork showed that the amount outstanding on the loan, which stood at about £13,000 in late 1998, had grown to £20,000 by March 2007. The overdraft account, which was £369 in 1998, was in credit to the tune of more than £3,000 last year.
Walton's feeling that something was amiss was fuelled by his discovery – via a contact – of the internal memo.
Under current legislation, banks must, if requested by a customer, provide them with a "true copy" of their credit agreement within a certain period, otherwise the bank may have difficulty enforcing it. But the Office of Fair Trading says a bank "may supply a 'reconstruction', only in the sense that it is providing exactly the same information as appeared on the original agreement". Clearly that didn't happen.
In a letter sent to the bank in November, Walton's MP said he remained concerned, adding: "Is it RBS's normal business practice to create and change accounts … without informing a customer or seeking their agreement?"
So, what happened? The bank says it is a cock-up rather than conspiracy – Walton was sent the wrong paperwork, and those two capital and interest loans have never existed. "Though very regrettable, this whole matter has come about due to a series of unfortunate errors … which have obviously caused the customer some inconvenience but have not disadvantaged him financially, as the county court judgment superseded everything else and has governed what Mr Walton owes the bank since 1998". The bank has already awarded him £500 compensation.
A spokesman says it was never its intention to give the impression that the "true copy" supplied to Walton was a copy of the original documentation. "Regrettably, in this instance, the first 'true copy' sent to Mr Walton was incorrect because the data we used was taken from our recoveries department, where the accounts had been sent when they went into default … This is why Mr Walton received details of two capital and interest variable rate loans which didn't exist, and for that we have apologised, explained the situation and told him to ignore them."
The second "true copy" the bank prepared was correct, says the spokesman. [Guardian Money has seen a copy and it is almost, but not completely, identical to Walton's own copy]. "Once the CCJ was enforced, that became his credit agreement with us, and so we were no longer legally obliged to provide a 'true copy' of the original agreement," he adds.
Walton's accounts "remain open for book-keeping purposes only. With the CCJ in place, they no longer have any significance to the debt being recovered … but are simply a vehicle for receiving his £38 monthly payment … regrettably, Mr Walton was sent statements on these accounts, which should not have been done.
"The statements show interest still being applied to the accounts, which is done for our own internal accounting and is normal practice … but this is not owed by Mr Walton."
As to the memo, the bank says: "We strongly refute any suggestion of wrongdoing – we are fully compliant with both the regulation and legislation."
The internal memo that was passed to us
"On occasion the Consumer Credit Agreement cannot be found quickly and in the past this led to the debt being written off. On identifying this problem Jane Fraser introduced a new process whereby if the CCA cannot be found quickly Jane is able to create a 'true copy' using the data keyed at the time the loan was granted and the 'style' of agreement used at that time – this can go back a number of years. 65 agreements have been recreated so far involving circa £250k of debt – a classic example of thinking under pressure and adding real value to the bottom line."